We advise you to keep an eye out for these aspects when ordering and using glass canopies:
The durability of the mounting – before designing and installing all-glass overhangs and canopies, in cases where one or another cantilever mounting structure is used (without the construction of additional support columns), it is required to make sure that the wall onto which such mounting is expected to be placed is sufficiently sturdy. This aspect must be taken into account since, for example, the dead weight of a 2000×1500 mm glass overhang can reach 250-270 kg, in addition, the normative zonal snow load for such a structure will be 480 kg, in total about 750 kg. A concrete wall that is at least 100 mm thick can be considered a reliable base for mounting to chemical anchors with a diameter of 8-16 mm. With a thinner concrete wall or a wall made of loose materials, slit-through bandage mounting is required.
Natural dirt removal and maintenance – if flat glass panels are used installed without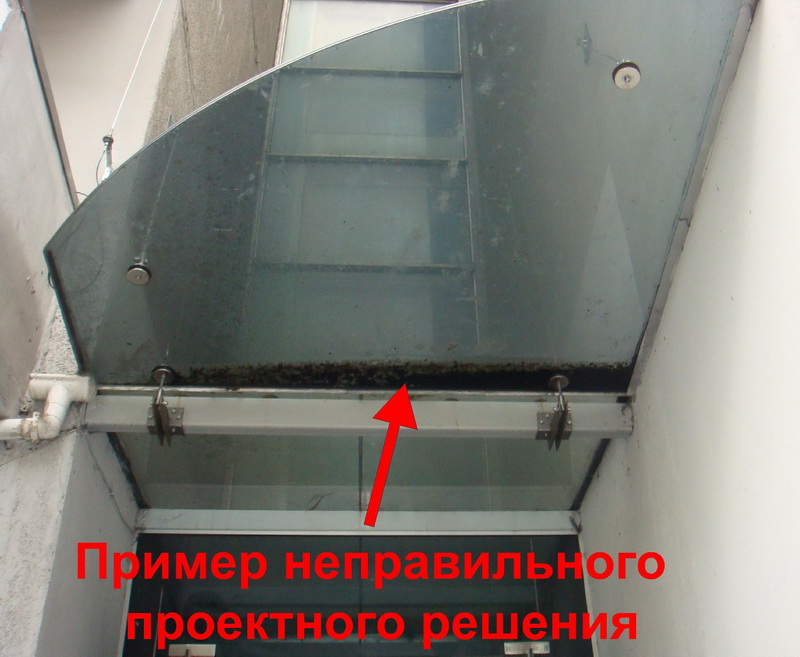 a slope or with a minimum slope of less than 10 °, rain or melt-water may accumulate on the glass surface. Dissolved contaminants in this water that have settled on the surface of the overhang, with prolonged exposure to the glass surface, can lead to chemical reactions that damage the glass. Additional inconveniences can be caused by the constituents of building mixtures washed out by atmospheric precipitation from the surface of the walls and structures of the building located above the overhang. To prevent these problems, we practice the installation of flat elements of overhangs and canopies with an angle of inclination of at least 10 °, which ensures the natural removal of moisture and dirt. It is recommended to wash such overhangs and canopies at least once a year with clean water, which will ensure aesthetic appeal and structural endurance.
*** use of reflective glass is preferred as part of glass overhangs, due to the vulnerability of reflective coatings relative to the operating conditions.