Drainage of rain and melt-water from glass overhangs
In some cases, in order to prevent rain or melt water from running off the front edge of an overhang made of flat glass elements, it may be necessary to set up a drainage system from its surface.
»
Draining water from the overhang:
  OPTION 1 ↓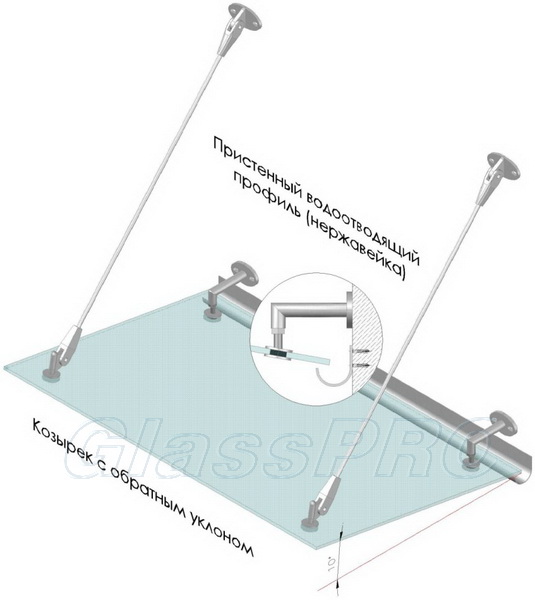 The most successful solution would be to install the overhang plane with a slight negative slope (about 10 °) and install a stainless steel sheet gutter along the line of contact between the overhang and the building facade. A heating system (anti-icing) can be integrated into such a gutter, which will provide unhindered drainage of melt-water during the cold season.
»
Draining water from the overhang:
            OPTION 2 ↓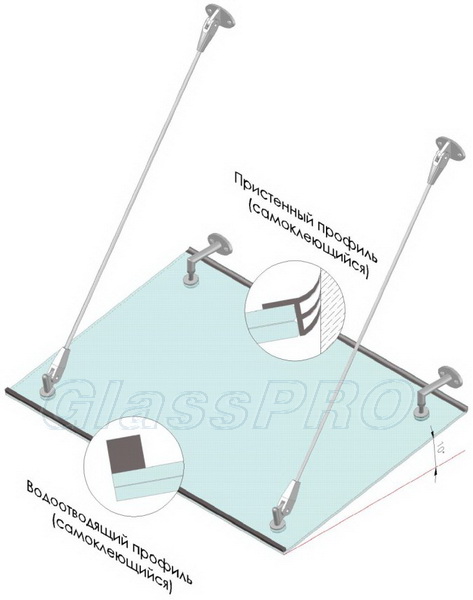 When installing an overhang with a more traditional positive slope, it is possible to use a stainless steel gutter or, as a more economically sparing alternative, a special self-adhesive drainage profile, also on the front edge of glass panels. However, it should be kept in mind that in that case, the elegance and visual lightness of the glass structure can appear to be somewhat disturbed. While designing, you will also need to consider the specifics of this design to prevent the possibility of drainage pathways being damaged by snow and ice that have accumulated on the surface of the overhang.